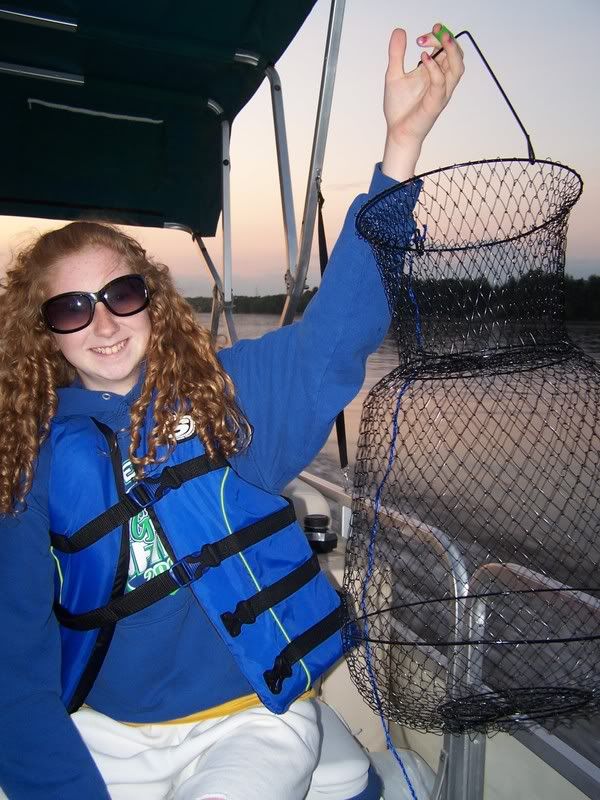 This picture just about sums it up! This was our day's catch for several of the days!!! NO keepers. In all all week we only have 24 keepers. The weather had just been too cold! But we did have FUN!
and
I
caught
a tagged fish. When we took the tag in we found out it was worth $500!!!!!! That meant that we all got our picture taken for the local newspaper. Now only I can go on vacation, win $$$$ and get my picture taken for the local newspaper. $500...
That's
a lot
of scrap supplies *wink* Actually most of it is going to pay for the vacation! but I promised myself a
cricut
cartridge
now which one ....
hmmmmmm
any
suggestions
?????
and lest you think we left Alex at home. Here is a picture of him enjoying the ride with Jim in the background!
Since we have been home we have had 3 softball games, 1 game was rained out, a softball meeting and 2 more games
tonight
and 3 more after those yet this week! I am ready for the weekend!!!!!! I need some scrap time!!!! I have this new July
KNK
Kit sitting on my desk and it is gorgeous and I need to play with it!!!! I have
sooo
many ideas running
thru
my head for it!!!! Crossing my fingers that I
don't
lose them when scrapping time comes! and I just saw on
Vicki

Chrisman's

blog
the
CHA
sneak peek for GLIMMER MIST. New Screens, new Chips, New Colors!!!!! Yummy!!!!!! I NEED THEM!!!!! Gerri-
anne
does have an awesome stock the current chips and color and screens at
KNK
. Check them out. and don't forget to check out Jules and I are doing a week long Glimmer Mist Technique in the
KNK

CAFE
.